Werkst's vision is to provide a solution that caters to the world's most challenging infrastructure projects, and such Werkst proudly presents KingZip Freeform Building Envelope Solutions, protected by Kingspan warranty. In today's world, challenging the status quo and pushing boundaries is the only way to stand out. There is no tolerance for compromise and the ability to offer style and distinctiveness is key. Our freeform building envelope solutions are a celebration of versatility and durability, supported by a reliable team.
Unique Value Added Product Points:
Aesthetic Architectural Roof
KingZip Freeform Building Envelope Solutions offer you the freedom to combine functionality and place making with stunning aesthetics to create truly extraordinary buildings, with total flexibility from initial form finding to final finishing construction. KingZip Linea and Infinity are manufactured on-site, form 1 meter up to 150 meters, without any need for endlaps, thus considerably increasing the speed of construction.
Thermal & Airtightness Performance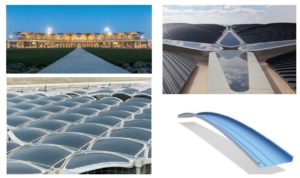 KingZip Linea and Infinity systems can be customized to any insulation specification requirement with therma values from 0.11W/m2K. Our systems have been subjected to CWCT and ASTM E1680 and achieve 5m3/hr/m2 @50Pa.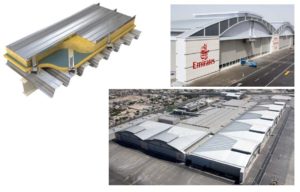 Acoustic Performance is a key requirement to public use buildings. KingZip Linea and Infinity systems have the flexibility to meet any acoustic performance specifications. Sound Absorption- Rw values from 36dB to 50dB, NRC values from 0.5 to 0.85. Acoustic Board – Gypsum Board 720 kg/m3 density, Cement Board 1,250 kg/m3, high density rubber mat.
Lighting Protection
KingZip aluminum envelope systems provide safe, effective protection by either acting as a conductor or as a protective screen in the event of lightning strike, safely routing charges to the earth. KingZip aluminum envelope systems can be used as lightning conductors in accordance of International Standard ENV 61024-1.
KingZip Linea and Infinity systems both achieve a class 0 rating as defined in various national building regulations. These systems are classed as non-combustible.
KingZip advance 'zip-up' freeform building envelope solutions create continuous weather tight envelopes that are supplied as a complete package with outer weather sheet, structural liner, vapor barrier, insulation, thermal halters, fasteners and accessories.
KingZip systems provide advanced structural, thermal, acoustic and fire performance combined with interlock seams offering exceptional long term weatherization and durability.
Certificate